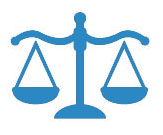 We offer free or low-cost legal services to people with disabilities whose civil or human rights have been violated. We provide several levels of service:
Information & Referrals. Disability Law Colorado maintains a large bank of resources for callers whose issues do not fall within our priorities or meet our criteria for representation. Example - Disability Law Colorado does not handle family law issues; however, we can direct a caller to other organizations, resources or training opportunities available to assist in that area.
Self-Advocacy Assistance. Our advocates provide information to assist callers in advocating for themselves regarding their potential legal issue. Additionally, Disability Law Colorado has many self-advocacy resources available to assist callers, including books, workbooks, and fact sheets on specific disability related issues. Example - An advocate may provide tips to a parent on advocating for their child at an Individualized Education Program (IEP) meeting. A tenant with a disability can learn her legal rights and advocate for herself in a dispute with her landlord by reading our fact sheet on housing and speaking with one of our advocates.
Limited Advocacy. If a legal issue falls within our priorities and criteria for representation, our attorneys may provide short term assistance by answering legal questions and providing legal advice. Example - An attorney may review documents and consult with a caller about possible legal options in filing an administrative or court complaint against an entity that is failing to provide reasonable accommodations to patrons with disabilities.
Direct Representation (Case Service). If a legal issue falls within our priorities and criteria for representation, an attorney may provide direct legal representation for your case. A representation agreement will be signed by the client and the attorney to confirm the scope of services Disability Law Colorado will provide. Example - An attorney may file a complaint against a client's employer with the Equal Employment Opportunity Commission (EEOC) if the client and attorney believe there has been a violation of the Americans with Disabilities Act.
Please Click Here to Review our Criteria for Representation & Grievance Policy
Important Disclaimer
Please note that we cannot take all cases as the demand for our services exceeds the availability of our staff and attorneys. Cases are selected based on available resources, our priority areas and our criteria for representation.
In deciding what level of service we are able to provide, Disability Law Colorado staff will consider:
The specifics of your case
Other resources available to you
Your ability to advocate for yourself
Whether your problem falls within one of our priority  areas as determined through public surveys and board approval
Availability of resources within our organization
Whether your case requires taking a position against another person with disabilities
The extent to which your case may benefit others with disabilities
Please remember that we only represent people with disabilities.